Temple Shalom Emeth: A Welcoming Reform Jewish Community in Burlington Massachusetts
We are a vibrant and welcoming Reform Jewish congregation. We provide a rich spectrum of opportunities for our members to express their Judaism through worship, education, music, community service, and social events.
Recent and Upcoming Holidays
Virtual Services for 2020-2021
Passover Seder Plans – March 27 & 28, 2021
Once again this year we will be holding a community Second Seder virtually (March 28, at 5:30pm), including a Zoom candle lighting and blessings over the first cup of wine, followed by a recorded service via YouTube.  Details and a link to the service will be provided via email our weekly announcements.
For a flavor of how much fun this Second Seder will be, here is just a short preview of some of the songs:
For those interested in joining one of our members over Zoom for the first Seder on March 27, please fill out the contact us form and we will follow up to arrange a match.
You can find an electronic copy of our Haggadah here.
Purim Services – February, 2021
Last year the Purim service was our last in person gathering before the lockdown, and now a year later please join us for the "Viral Purim Shpiel Service", complete with animated hamantashan, a COVID-themed telling of the Purim story, new musical renditions of your favorite prayers, and so much more…
View the video on YouTube by clicking on the play button in the image to the right:
Friday Shabbat Services
Friday, June 18th we will be holding an outdoor, socially distant service.  Please RSVP (see this week's announcements for RSVP instructions).
Note that all attendees must be fully vaccinated for COVID-19, or under the age of 18.  Since there will be singing along with the service, masks will be required, and we ask that you please click on the link below to prior to the service, to confirm your vaccination status and allow us to contact trace if necessary.
Friday Shabbat Services are also being conducted virtually.  You may view the most recent services by clicking on the links on this page, or you may also check out past services from our Shabbat Services page.
High Holidays 2020 – Virtual Services
For more information or to get access to the archive of the services, please see our High Holy Days worship schedule.
Rabbi Rocketpower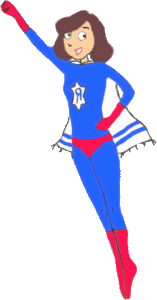 Did you know that our rabbi is the author of the Rabbi Rocketpower series of children's Jewish holidays books?
She is the first-ever female rabbi superhero.
Oy vay! Up, up and away!
Check Out Our Music Video: SHALOM!