Temple Shalom Emeth: A Welcoming Reform Jewish Community in Burlington Massachusetts
We are a vibrant and welcoming Reform Jewish congregation. We provide a rich spectrum of opportunities for our members to express their Judaism through worship, education, music, community service, and social events.
Our community gathers weekly for Shabbat Services.  Please refer to our calendar for dates and times.
Check Out Our Music Video: SHALOM!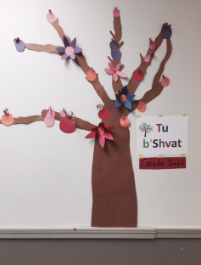 Tu Bishvat seder conducted by Grades Pre-K/K!
Friday, Jan. 25th, 6:30 pm
Join us in the social hall for a special Tu Bishvat seder conducted by Grades Pre-K / K! Celebrate the beginning of spring in Israel and remember our responsibility to help the earth. Eat many different types of fruit and drink juice all during the service. One of the most fun services of the year. Perfect for all ages. No nuts will be served.
Upcoming Services
Friday, Jan 4th, 6:30 pm, Shabbat Music Service
Friday, Jan 11th, 7:30 pm, Shabbat Service
Friday, Jan 18th, 7:30 pm, Shabbat Service
Friday, Jan 25th, 6:30 pm, Tu B'shevat Seder/Family Worship, grade Pre-K/K
Friday, Feb 1st, 7:30 pm, Shabbat Service
Friday, Feb 8th, 6:30 pm, Family Shabbat Worship, Grades 1 & 2
Upcoming Activities
Saturday, Jan 5th, Torah, Food and Schmooze, Social Hall
Saturday, Jan 12th, 6:30 pm, Winter FAAB (Free As A Bird) Pot Luck Dinner
Saturday, Jan 13th, 7:00 pm, Temple Board Meeting
Sunday, Jan 27th, 7:00 pm, Temple General Meeting
Monday, Jan 28th 12:30pm, L'Chaim Lunch w/ noted author Tova Miris
The L'chaim Group of Temple Shalom Emeth invites you to warm up with good food and good friends on Monday, Jan. 28th, 12:30 pm
Enjoy a delicious luncheon of assorted wraps, soups and salads.  Meet noted author Tova Mirvis as she presents the story of  the memoir of a woman who leaves her faith and her marriage and sets out to navigate the terrifying, liberating terrain of a newly mapless world. Born and raised in a tight-knit Orthodox Jewish family, TovaMirvis committed herself to observing the rules and rituals prescribed by this way of life. But over the years, she decides to discover who she really is.
Suggested contribution of $5., Please RSV to rsvp@shalom-emeth.org. 
If you would like to bring fruit or a dessert, please let us know when you RSVP.
Rabbi Abramson in the News
Rabbi Rocketpower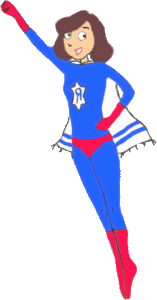 Did you know that our rabbi is the author of the Rabbi Rocketpower series of children's Jewish holidays books?
She is the first-ever female rabbi superhero.
Oy vay! Up, up and away!