Temple Shalom Emeth: A Welcoming Reform Jewish Community in Burlington Massachusetts
We are a vibrant and welcoming Reform Jewish congregation. We provide a rich spectrum of opportunities for our members to express their Judaism through worship, education, music, community service, and social events.
Recent and Upcoming Holidays
Services for 2021-2022
High Holy Day Services
This year's services will once again primarily be online, with a few options for in-person elements.  Note that all in-person services will also be available as a live stream, with a recording published shortly after the service concludes.
Erev Rosh Hashanah – Monday evening September 6 – Virtual Service
1st Day Rosh Hashanah- Tuesday September 7 – Virtual Services will be available for adults as well as a children's program.
Shofar Service – Tuesday September 7 at 4:00pm – 

In person

Service in the back parking lot, weather permitting.
In case of rain we will postpone this service and try to hold it in conjunction with Tashlich the next day.
2nd Day Rosh Hashanah – Wednesday September 8 – Virtual Morning Service
Tashlich at the North Bridge, Concord – Wednesday September 8 at 4:30pm – Cast off your sins i
n person
Erev Yom Kippur – Wednesday evening September 15 – Virtual Service
Yom Kippur Morning Service- Wednesday September 16– Virtual Services will be available for adults as well as a children's program.
Yizkor – Thursday September 16 at 1:00pm – In Person Memorial service will be held outdoors in the parking lot. In case of rain this will be live streamed from the sanctuary, with only those leading the service attending in person.
Neilah (concluding service) – Thursday afternoon September 16th – Virtual Service
Services will be led by Rabbi Susan Abramson, Cantorial soloists Ben Silver and Don Levey, and Rabbinical student / Education Director Ben Einsidler. All in person services will also be available live streamed for those unable to attend, and a recording will also be available shortly after the service is completed.
For more information or to get access to the virtual services, please see our High Holy Days worship schedule.
Friday Shabbat Services
Friday, August 27th we will be holding an outdoor, socially distant service.  Please RSVP (see this week's announcements for RSVP instructions).
Note that all attendees must be fully vaccinated for COVID-19, or under the age of 18.  Since there will be singing along with the service, masks will be required, and we ask that you please click on the link below to prior to the service, to confirm your vaccination status and allow us to contact trace if necessary.
Friday Shabbat Services are also being conducted virtually.  You may view the most recent services by clicking on the links on this page, or you may also check out past services from our Shabbat Services page.
Rabbi Rocketpower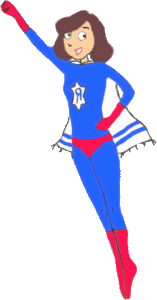 Did you know that our rabbi is the author of the Rabbi Rocketpower series of children's Jewish holidays books?
She is the first-ever female rabbi superhero.
Oy vay! Up, up and away!
Check Out Our Music Video: SHALOM!