Temple Shalom Emeth: A Welcoming Reform Jewish Community in Burlington Massachusetts
We are a vibrant and welcoming Reform Jewish congregation. We provide a rich spectrum of opportunities for our members to express their Judaism through worship, education, music, community service, and social events.
Our community gathers weekly for Shabbat Services.  Please refer to our calendar for dates and times.
Check Out Our Music Video: SHALOM!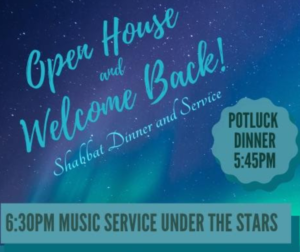 AUGUST SHABBAT SERVICE
Open House & Welcome Back From Summer
Friday, August 23 , 6:30PM
On Friday, Aug. 23rd, please join us for a mix of A vegetarian/dairy potluck dinner and service, song and spiritual praise, led by Rabbi Abramson, Ben Silver and members of the Temple Band.
                      5:45- Pot Luck vegetarian Shabbat dinner 
                      6:30- Shabbat services under the summer sky
Please RSVP to Ellen at rsvp@shalom-emeth.org to coordinate the vegetarian/dairy potluck. Suggestions summer salads and pastas.
Upcoming Services
Friday, Aug 23rd, 6:30 pm Open House Shabbat Service
Friday, Sep 6th, 7:30 pm, Shabbat Service
Friday, Sep 13th, 6:30 pm, Temple Band Shabbat Service
Friday, Sep 20th, 7:30 pm, Sisterhood Shabbat Service
Friday, Sep 27th, 7:30 pm, Shabbat Service
Upcoming Activities
Friday, Aug 23rd 6:00 pm Temple Open House BBQ
Friday, Sep 20th, TBD, Sisterhood Shabbat Dairy Potluck dinner
Wednesday, Sep 25th, 7pm, Book Club, See Temple Announcements for details
Rabbi Abramson in the News
Rabbi Rocketpower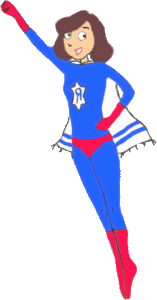 Did you know that our rabbi is the author of the Rabbi Rocketpower series of children's Jewish holidays books?
She is the first-ever female rabbi superhero.
Oy vay! Up, up and away!