Temple Shalom Emeth: A Welcoming Reform Jewish Community in Burlington Massachusetts
We are a vibrant and welcoming Reform Jewish congregation. We provide a rich spectrum of opportunities for our members to express their Judaism through worship, education, music, community service, and social events.
Friday Shabbat Services
We have returned to in-person Shabbat Services in our Sanctuary with limited capacity. To prevent crowding, RSVPs are required. Please fill out the form linked below.
Masks are required for all attendees, and those age 5 and up must be vaccinated.
High Holy Day Services 2021
This year's services were once again primarily online. Select recordings can be found on the Spiritually Speaking YouTube channel.
Highlights of our Year
Interfaith Holocaust Memorial Service
Rabbi Susan Abramson, Cantorial Soloist Ben Silver, State Rep. Ken Gordon, members of the interfaith clergy held a meaningful service in memory of the Holocaust. Special speaker: Judge Phillip Weiner, former Judge of The Hague who prosecuted war crimes in Bosnia, Herzogovina and Cambodia.
Passover 5782
Second Seder with Rabbi Abramson, Cantorial Soloist Ben Silver, and members of the Temple Band!
Hanukkah Highlights
Interfaith Thanksgiving Services
Rabbi Abramson joined with other local clergy for an Interfaith Thanksgiving Service in both Billerica and Burlington.
Rabbi Rocketpower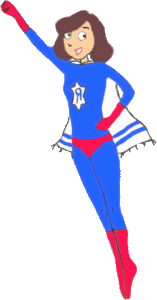 Did you know that our rabbi is the author of the Rabbi Rocketpower series of children's Jewish holidays books?
She is the first-ever female rabbi superhero.
Oy vay! Up, up and away!
Check Out Our Music Video: SHALOM!