Temple Shalom Emeth: A Welcoming Reform Jewish Community in Burlington Massachusetts
We are a vibrant and welcoming Reform Jewish congregation. We provide a rich spectrum of opportunities for our members to express their Judaism through worship, education, music, community service, and social events.
Our community gathers weekly for Shabbat Services.  Please refer to our calendar for dates and times.
Check Out Our Music Video: SHALOM!
Temple Shalom Emeth Presents Noah's Ark Paws For Shabbat Service
Temple Shalom Emeth Music Service (June 19, 2020)
Temple Shalom Emeth, for the foreseeable future, is cancelling all public services and all in-person activities at the Temple to ensure the safety of our members and community.
Our Friday Shabbat Services are available on our home page.
Temple Shalom Emeth Installation Service (June 12, 2020)
Rabbi Abramson in the News
Rabbi Rocketpower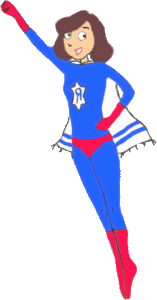 Did you know that our rabbi is the author of the Rabbi Rocketpower series of children's Jewish holidays books?
She is the first-ever female rabbi superhero.
Oy vay! Up, up and away!