Temple Shalom Emeth: A Welcoming Reform Jewish Community in Burlington Massachusetts
We are a vibrant and welcoming Reform Jewish congregation. We provide a rich spectrum of opportunities for our members to express their Judaism through worship, education, music, community service, and social events.
Friday Shabbat Services
We are returning to in-person Shabbat Services in our Sanctuary with limited capacity. To prevent crowding, RSVPs are required. Please fill out the form linked below.
Note that all attendees must be fully vaccinated for COVID-19, or under the age of 12.  Since there will be singing along with the service, masks will be required, and we ask that you please click on the link below to prior to the service, to confirm your vaccination status and allow us to contact trace if necessary.
Rabbi Rocketpower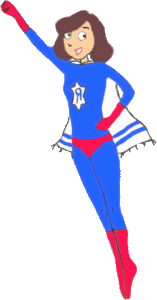 Did you know that our rabbi is the author of the Rabbi Rocketpower series of children's Jewish holidays books?
She is the first-ever female rabbi superhero.
Oy vay! Up, up and away!
Check Out Our Music Video: SHALOM!