Temple Shalom Emeth: A Welcoming Reform Jewish Community in Burlington Massachusetts
We are a vibrant and welcoming Reform Jewish congregation. We provide a rich spectrum of opportunities for our members to express their Judaism through worship, education, music, community service, and social events.
Friday Shabbat Services
Update: February 17, 2022
We have returned to in-person Shabbat Services in our Sanctuary with limited capacity. To prevent crowding, RSVPs are required. Please fill out the form linked below.
Masks are required for all attendees, and those age 5 and up must be vaccinated.
High Holy Day Services 2021
This year's services were once again primarily online. Select recordings can be found on the Spiritually Speaking YouTube channel.
Recent and Upcoming Events
Hanukkah Highlights
Interfaith Thanksgiving Services
Rabbi Abramson joined with other local clergy for an Interfaith Thanksgiving Service in both Billerica and Burlington.
Kristallnacht Commemoration
Special Event – Jill Kornetsky's Escape From Afghanistan
Learn about Jill Kornetsky's amazing escape from Afghanistan four days before the US pulled out of the country, and her plans to make an impact in the lives of Afghani women. An interview by Rabbi Susan Abramson, Temple Shalom Emeth, Burlington, MA. Neesha Suarez, Director of Constituent Services for Cong. Seth Moulton, will detail her efforts which helped Jill and her Afghani assistant leave Kabul.
Recording available on YouTube
Rabbi Rocketpower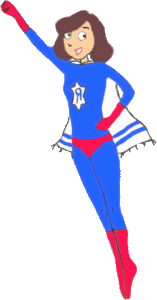 Did you know that our rabbi is the author of the Rabbi Rocketpower series of children's Jewish holidays books?
She is the first-ever female rabbi superhero.
Oy vay! Up, up and away!
Check Out Our Music Video: SHALOM!