Temple Shalom Emeth: A Welcoming Reform Jewish Community in Burlington Massachusetts
We are a vibrant and welcoming Reform Jewish congregation. We provide a rich spectrum of opportunities for our members to express their Judaism through worship, education, music, community service, and social events.
High Holy Day Services Update
Virtual Services for 2020
All services are being held virtually.  Members will receive a link to the services via email.
For those interested in viewing the services as guests, please visit the eventbrite sign up page by clicking here to register.
Friday Shabbat Services
Friday Shabbat Services are also being conducted virtually.  You may view the most recent services by clicking on the links on this page, or you may also check out past services from our Shabbat Services page.
Rabbi Rocketpower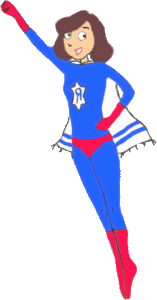 Did you know that our rabbi is the author of the Rabbi Rocketpower series of children's Jewish holidays books?
She is the first-ever female rabbi superhero.
Oy vay! Up, up and away!
Check Out Our Music Video: SHALOM!