Temple Shalom Emeth: A Welcoming Reform Jewish Community in Burlington Massachusetts
We are a vibrant and welcoming Reform Jewish congregation. We provide a rich spectrum of opportunities for our members to express their Judaism through worship, education, music, community service, and social events.
High Holidays 5783
We are returning to hybrid holy day services this year. You may choose to join us in person or livestream.
So that we may plan for seating, we are asking that you let us know in advance whether you plan to attend in person, and if so, which services. We may need to plan to have overflow seating in the social hall where we will be showing the service on a big screen, and we will also be live-streaming if you plan to attend from home.
For exact dates and times, please refer to the weekly announcements or contact us by email.
Friday Shabbat Services
We have returned to in-person Shabbat Services in our Sanctuary with limited capacity. To prevent crowding, RSVPs are required. Please fill out the form linked below.
SHABBAT RSVP FORM
Masks are required for all attendees, and those age 5 and up must be vaccinated. If you have any questions or concerns, please feel free to email us
.
Religious School
Enrollment is open for Temple Shalom Emeth's religious school!
We are excited for another great year of learning together for students in grades Pre-K through 10. Grades Pre-K through 7 meet Sunday mornings at the temple. We have three fabulous teachers this year!
Mark your calendars! Opening Day of religious school is Sunday, Sept. 11.
Please complete this form to register.
Highlights of the Past Year
Interfaith Holocaust Memorial Service
Rabbi Susan Abramson, Cantorial Soloist Ben Silver, State Rep. Ken Gordon, members of the interfaith clergy held a meaningful service in memory of the Holocaust. Special speaker: Judge Phillip Weiner, former Judge of The Hague who prosecuted war crimes in Bosnia, Herzogovina and Cambodia.
Passover 5782
Second Seder with Rabbi Abramson, Cantorial Soloist Ben Silver, and members of the Temple Band!
Hanukkah Highlights
Watch our video to see Highlights of Hanukkah 2021!
Interfaith Thanksgiving Services
Rabbi Abramson joined with other local clergy for an Interfaith Thanksgiving Service in both Billerica and Burlington.
Rabbi Rocketpower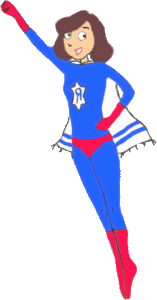 Did you know that our rabbi is the author of the Rabbi Rocketpower series of children's Jewish holidays books?
She is the first-ever female rabbi superhero.
Oy vay! Up, up and away!
Check Out Our Music Video: SHALOM!